BREEDERS WITH THE AMSTAFF AT HEART
These are the last photos of Alberta, they were taken in 2000.
Alberta Ormsby with X-Pertise Svetlana's Gee Gee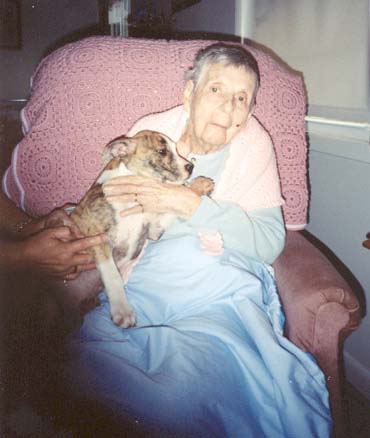 Dorothy & Alberta Ormsby with X-Pert Beers' Ziggy Stardust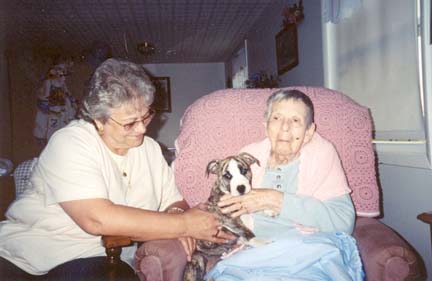 Peggy Doster : Alberta Ormsby In Memoriam
Alberta Ormsby, co-founder of the X-Pert bloodline, has passed on. She died on Saturday, March 3, 2001. If she were here, she would proudly tell you, "I'm 92 years old, you know." She had recently had a heart attack, but was expected to recover. Dorothy Ormsby White called Nan Beers this morning to tell her about Bert's passing. I have not spoken to Dot yet, so I have no details. I do know that the funeral will be on Wednesday, March 7th at a funeral home within walking distance from the Ormsby's Pine St. home in Hornell, NY.

I can not begin to express the deep sadness I feel in knowing that I will not be able to visit Bert this spring, as was my habit. I am grateful that I did visit her this fall and took all my puppies with me. She held everyone of them. She could never resist evaluating all the new puppies. She loved to run her hands over them...a judge to the end.

I had known Bert less than 10 years, yet it seems I had known her all my life. What a warm, kind and generous person she was. I will always remember my visits to Hornell, the stories that were told, the jokes that were shared, the photos that were shown. Knowing Cliff and Alberta Ormsby makes me feel that I was given a glimpse of American Staffordshire Terrier history.

Alberta was a grand lady and one of the great ladies of our breed. Our first breeder-judge. A woman's whose opinion I respected more than any other. She was a legend in her own time. She was loved and respected by all who knew her.

I promise, Bert, the X-Pert legacy will live on. I will never forget what you taught me. I can still hear you say, "White feet are tight feet."

So, go now to join those you have loved so much...I know you have been sad and lonely without Cliff. He was such an important part of your life for so long. Go now to be with your beloved dogs...your favorite boy, Biff, and all the others. At last, you can all be together again.
Dorothy & Alberta Ormsby with X-Pertise Svetlana's Gee Gee